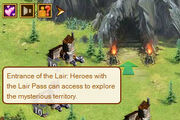 The Lair is a beginner adventure area. Heroes encounter low level monsters here and can collect weapons and armor for level 1 to 9 heroes. Entrance to the Lair requires one Lair Pass. Players gain three Lair Passes per day by logging into the game.
Finding the Lair
Edit
Unlike other game locations which are accessed through the map, the Lair is at the upper right corner of the player's castle area. Click and drag the game screen until a small cave is visible near the Iron mines.
Joyce is the quest master for the Lair. Joyce will give a quest to kill five wolves. Players who complete the quest will gain one reputation point and one fragment.