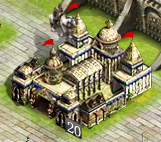 A Town Hall is the largest building in any Lords Online castle. No other building can be higher level than the Town Hall so it is important to upgrade the Town Hall.
Players can boost resource production with oases; oasis ownership capacity is determined by the level of the castle's Town Hall. A castle can own one oasis with a level 1 Town Hall, two oases at level 5, three oases at level 10, and four oases at level 15.
Special functions
Edit
Tax Rate - the game defaults tax rate to 5%. Players can reset this to any percentage.
Loyalty - players can improve population loyalty through Disaster Relief, Praying, and Blessing.
Levy - players can generate extra resources through a levy, but each levy causes 10% resentment.
Ceremony - a ceremony increases civilization and lets a player level up faster. Ceremonies cost resources and gold.
Rename - allows player to rename a city and choose different artwork.
Oasis - gives a list of owned oases. Oasis ownership boosts resource production.
Town Halls need pearl gems for level 10, 15, and 20 upgrades. Players who are friends can gift these to each other. Pearls can also be purchased at the game store.
Building requirements
Edit
Level 1: (automatic)
Level 2:
Level 3
Level 4
Level 5
Level 6
Level 7
Level 8
Level 9